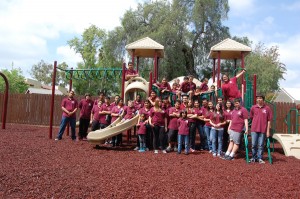 What's the one word on every parent's mind when their kids are playing at a playground? It's "safety." They want their kids to be safe. They don't want to be rushing to the emergency room.
Indeed, it's important to keep kids safe these days. We live in a world where lots of bad stuff happens. Therefore, a playground should be a sanctuary from all that's wrong with the world. And it should be safe, comfortable and enjoyable for all– kids and parents alike.
Superior to Concrete
One of the more recent developments in modern day playgrounds is the use of rubber mulch as playground flooring. It's better than concrete! What's so good about rubber mulch? It's soft enough to absorb impact, so if a child hits the ground (and they will, right?), he or she won't get hurt. In general, playgrounds should have rubber mulch installed at least 6 inches deep in order to provide maximum support.
More Eco-Friendly
Rubber mulch is eco-friendly in the sense that it's made from recycled rubber materials. While it's soft upon impact (from falls) it's also tough because it can withstand weather (rain/snow/ice) and last for years.
Extra Cushion for Falls
What does rubber mulch replace? Besides concrete surfaces, there are older playgrounds from the 1970s using sand as their flooring. Sand and other soil-based surfaces can become as hard as cement! When sand gets wet it can become compacted– and therefore it's not going to easily absorb impact from falls.
Finally, know this: when the Center for Disease Control (CDC) conducted a test of playground surfacing materials, rubber mulch was determined to be the safest thanks to its ability to cushion a fall.
At Rubber Safe Playgrounds LLC, we supply customers with one-of-a-kind rubber mulch that's easy to maintain and durable. We have different colors available if you want to match the color(s) of your playground equipment. You'll find our quality rubber mulch at school playgrounds, as well as town playgrounds and in people's backyards (residential homes). Concentrated in Indiana, Illinois and Michigan, our company also serves a wider area with our mulch being in playgrounds throughout many different states around the country. Contact us today at 630-330-6589 with your questions– we'll be happy to answer them.