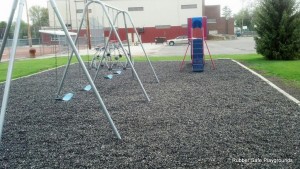 Playgrounds play a crucial part of the school day to both student and staff. Playgrounds provide a much needed break from rigorous school work as well as to let those little limbs loosen up and expend built up energy.
A school playground costs thousands of dollars and while the money is well spent and worth every dollar, upkeep can be just as costly. One area where your initial investment will be repaid year after year is the playground surface, as long as you choose rubber mulch.
Rubber mulch is made of recycled rubber tire sidewalls and offers superior protection against injury to those precious little bones. While safety is the main reason for choosing this flooring for school playgrounds, we cannot forget to mention its aesthetic appeal.
Rubber Mulch Has Additional Benefits
Rubber mulch is very attracting to the eye. It shines in the right amount of light, it is clean and does not shred further like wood mulch does. Plus, the hot sun, cold temperatures and rain won't fade the color. In fact, rubber mulch can be processed into a variety of colors including red, black, brown, blue, and green.
Unkempt playgrounds are a sight for sore eyes and can impact the school's outside appearance in a negative aspect. If you have an older, but completely useable and safe playground, rubber mulch can freshen it up so it appears "newer."
Spring is finally making its way here, which means the kiddos will be spending recess outdoors on the playground. To get your playground surface in gear for the little feet, contact Rubber Safe Playgrounds today.